See our latest performance update
The first quarter of 2020 has been a historic one for the world and financial markets.
The rapid spread of COVID-19 and resulting lockdowns around the world initially sent share markets spiralling downwards by as much as 34%. We discussed a historical perspective on this rapid market fall in What coronavirus means for your portfolio. The policy response by governments and central banks across the globe have since helped markets stabilise and some share prices rebound.

The markets are reevaluating the impact of this virus in real-time. New information on fatalities, job losses, consumer confidence and spending, inflation, earnings, dividends and other factors are leading to large moves in share prices. Because there are still so many unknowns it's likely that market volatility will remain high for some time even if we have now passed 'peak panic'.

This pandemic has shown once again that trying to time your entry and exit points into markets is notoriously difficult.
That's why our advice continues to be to stay invested and ride out the market bumps with a well diversified portfolio. Over many market crises, staying invested has been a more profitable and repeatable strategy than moving to cash until the volatility passes.

Stockspot portfolio performance
The Stockspot portfolios provided a significant level of protection from share market falls, as they've been designed to do.
While the Australian share market fell by 20% over the first quarter (and some individual shares by much more), the Stockspot portfolios lost between 2.1% to 9.7%.
To only be down 2.1% to 9.7% after the most rapid share market correction since 1987 is something we are extremely proud of, particularly after delivering positive returns of 13.9% to 19.9% in 2019.
Stockspot's defensive assets shine
Our allocation to both Australian government bonds and gold helped to offset some of the share market losses. Government bonds increased by 2.3% for the quarter and gold rose by 20.2%. Our decision to increase the gold allocation in November 2017 has helped during this period since government bonds haven't provided the same level of protection they would have in the past.
Over the 12 months to 31 March 2020 gold has risen by 43%.
Given gold's target weight of 12.3% in each of Stockspot's portfolios, this has contributed to 5% better performance than if we didn't own gold.
Assets like property and infrastructure fell by as much (or more) than Australian shares during this correction. We recently wrote about the impact this could have on members of some large super funds.
In our view a defensive asset is one that you can liquidate easily in a stressed environment.
It has always struck us as very wrong that funds can classify infrastructure and property as defensive. We recently discussed this issue with Charlotte Grieve from The Age.
Performance relative to other funds
The Stockspot portfolios continue to have positive returns on a rolling 12 month basis which is better than 99% of similar managed diversified funds. Our 5 portfolios have outperformed 464 of 469 similar diversified funds tracked by Morningstar. Stockspot portfolios also continue to outshine 99% of similar funds over 3 and 5 years as they did when we did a detailed comparison in September 2019.
Source: Stockspot, Morningstar website comparison group of investment funds across growth, balanced and moderate multi-sector categories to 31 March 2020. Stockspot Amethyst, Turquoise and Topaz portfolios
How to invest in volatile markets
This quarter has shown the value of staying diversified and disciplined with your investment strategy regardless of what markets throw at you.
Stay diversified including defensive assets
We own a wide mix of different investments to give you exposure to different sectors, countries and asset classes. This helps to smooth the bumps and keep you invested throughout the inevitable ups and downs like we've seen.

A mix of growth assets like shares as well as defensive assets like bonds and gold is important. It also means you have many sources of returns. This chart shows where returns have come from over the past 5 years.
Graph may not sum up to 100 due to rounding
Let Stockspot automate your rebalancing to take advantage of market dips
This quarter gave us the rare opportunity to 'rebalance' some client portfolios to get them back towards their target investment mix. To do this we've generally been selling some gold and buying some Australian shares. We explained the process in detail in Why we're rebalancing some portfolios now.

It may seem counterintuitive to be selling gold and investing the proceeds into shares during a period of market turmoil. Rest assured that this is exactly what should be happening in order to get your portfolio risk back to its target risk level and take advantage of the low prices.

We know It's hard to sell things that have done well because it involves going against the crowd. Automated rebalancing removes emotion and helps you to buy investments when they're low and sell when they're high. It's one of the big advantages of using an automated wealth service like Stockspot rather than investing yourself.

Don't try and time when to be in and out
It may seem sensible to exit markets and move to cash after seeing the Australian share market fall by 34% in a matter of weeks. At least until things settle down. While it might make you more comfortable in the short term, moving to cash can be an expensive mistake over the long term. Markets do recover so moving to cash for an extended period is likely to put you in a worse position. We considered a few different scenarios in The cost of moving to cash.
The first quarter of 2020 has been a difficult one for many Australian families and workers
Stockspot understands how important it is for us to be available to speak to and answer any questions during these volatile times.

Our Client Care & Advice team remains on hand to support you via phone, email and live chat and is ready to respond to your queries during business hours. Don't hesitate to reach out if you have any questions and we will respond as soon as possible.

Our Operations team continues to invest for clients, process deposits, withdrawals and open new accounts.
This quarter has been our largest quarter on record of new deposits which shows that most clients see this as an opportunity to add to their long-term investments.

We hope you and your families stay safe and healthy during this difficult time.

One common misconception about investing in the market index is that it destines you to be 'average'.
After-all, who wants to sign up to an investing strategy (or any life pursuit) that promises to be mediocre?
This couldn't be further from the truth. In this months' performance update we'll show how indexing has been the safest way to beat average and even be in the top 1%.
Portfolio performance
The Stockspot portfolios have now been running for 5 ½ years.
Over the 5 years to 30 September 2019, our portfolios have returned between 7.5% per year (Amethyst) to 10.0% per year (Topaz) after fees. Over the shorter 1 and 3 year timeframe the returns are higher still.
1 year
3 years (p.a.)
5 years (p.a.)
Total return
Topaz
(high growth)
13.5%
11.5%
10.0%
72.7%
Emerald
(growth)
13.5%
10.0%
9.1%
63.1%
Turquoise
(balanced)
13.4%
9.2%
8.5%
58.5%
Sapphire
(moderately conservative)
13.2%
8.9%
8.2%
56.8%
Amethyst
(conservative)
12.9%
7.7%
7.5%
51.9%
Returns as of 30 September 2019 after fees
There have been bumps along the way. Shares dipped 20% during 2015/16 and saw some large movements in 2018. Despite this, all of our portfolios have delivered positive returns every year, including 2018 when most assets fell.
During market speed bumps, our portfolios have only experienced half of the risk of shares thanks to the insulating effect of owning assets like bonds and gold.
How does that compare?
Without context it's hard to know if that's a good or bad result. So we've compared how our portfolios have performed relative to 439 similar funds available in Australia over 3 and 5 years.
You'll notice a theme from the table and charts below:
Stockspot beat between 97.5% and 100% of other funds over 5 years! For example of the 199 growth funds, our most popular Topaz portfolio beat 198 of them (99.5%) after fees over 5 years. That's something we're really proud of!
The other funds have widely varied returns – some have done well, while others have done poorly. Very few have managed to do consistently well over 3 and 5 years.
Stockspot portfolio
Percentage of similar funds that Stockspot outperformed
Topaz
(high growth)
99.5%
Emerald
(growth)
97.5%
Turquoise
(balanced)
99.1%
Sapphire
(moderately conservative)
98.3%
Amethyst
(conservative)
100.0%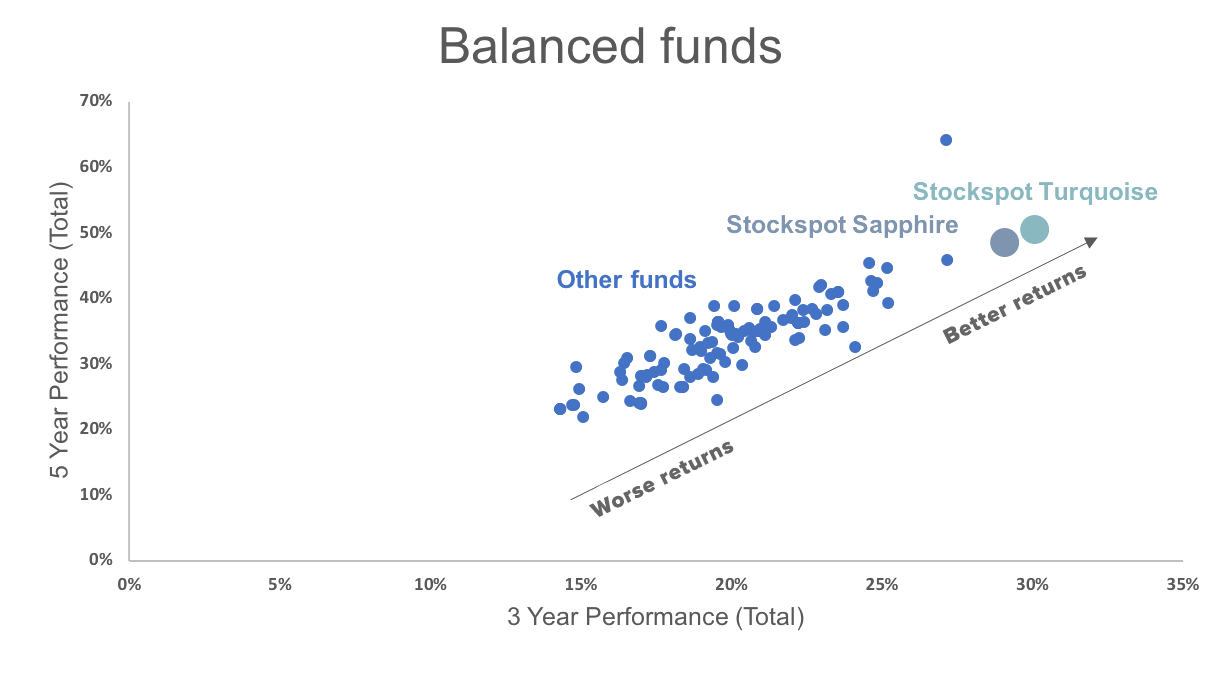 How do Stockspot portfolios get to the top of every category?
You're probably wondering how that's possible? How could the Stockspot portfolios, which only invest in low-cost ETFs, beat almost all of the professional fund managers taking active views of different shares and asset classes?
The answer is simple.
Investing is a zero sum game compared to the index. For every winner there is a loser. On average, "the rest" can only ever deliver the market return before their fees.
After fees are subtracted research shows about 75% of active managers underperform the market each year. Over 10 years The Pensions Institute found that only 1% of funds were able to produce enough returns to offset their costs.
A similar comparison in the UK showed a simple 'no brainer' portfolio of index funds (similar to the Stockspot portfolios) "outperformed virtually all the corresponding funds in the same risk profile on a risk-adjusted basis over three and five years".
At Stockspot we exclusively invest into low cost ETFs. We consider them to be a safer, lower cost, more transparent, and tax efficient way of investing.
Our returns compared to peers over the last 5 years support this and demonstrate the power of our simple, time-tested principles in an industry full of unnecessary complexity.
Source: Morningstar investment fund universe, Stockspot Amethyst, Turquoise and Topaz portfolios
How to be above average?
Investing returns are never guaranteed, especially over the short term. However there are actions you can do to stack the odds wildly in your favour.
Here's how Stockspot has stayed well above average over the years:
1. Diversify broadly
We own a wide mix of different investments to give you exposure to different sectors, countries and asset classes. This will help to smooth the bumps and keep you invested throughout the inevitable ups and downs.

A mix of growth assets like shares as well as defensive assets like bonds and gold is important. It also means you have many sources of returns. This chart shows where returns have come from.
2. Keep costs low
There's no need to go funky! Double leverage. Deep value. Low volatility. Smart beta. These are all marketing terms that probably won't help you achieve a better result. Simple low cost ETFs that track the whole market are all you need.
3. Stay the course
Don't be tempted by scary market headlines. Most market news is already included in the price so trying to time your ins and outs is likely to cause more harm than good. Just stick with it and top up where you can with any extra savings.
That's the secret to being above average.
Any advice contained in this article is general advice only and has been prepared without considering your objectives, financial situation or needs. Before making any investment decision we recommend that you consider whether it is appropriate for your situation and seek appropriate advice. Please read our Financial Services Guide before deciding whether to obtain financial services from us.