Bonds and inflation
Data from the Federal Reserve shows that the money supply (or M2) in the United States rose from $15.3 trillion at the start of 2020 to $19.4 trillion by early 2021. That means that in early 2021, one in every four U.S. dollars was essentially printed in 2020.
Money supply in the U.S. increased by 26.4% in 2020.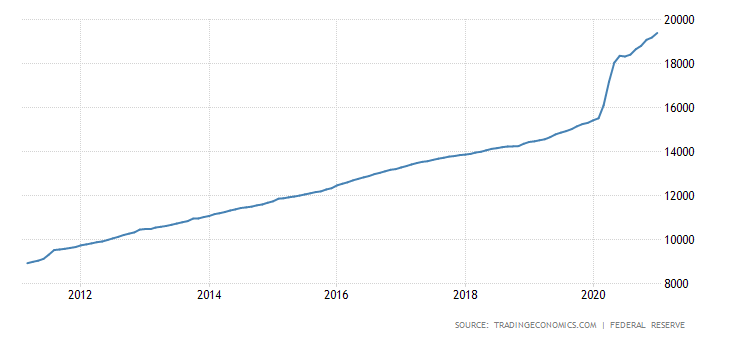 Closer to home, the Reserve Bank of Australia introduced a range of measures to keep the supply of credit available for small and medium-sized businesses. Its balance sheet more than doubled from around $180 billion prior to the pandemic to around $375 billion today – an increase of 108%.
This unparalleled economic stimulus is what governments and central banks determined was needed to keep businesses and households afloat due to the damage from COVID-19.
Now that the world is recovering, the market is starting to predict (through the price of various assets) that this extra money will eventually translate to higher inflation. In turn, the expectations that inflation will increase has led to the anticipation of higher interest rates. Bond prices move in the opposite direction to interest rates, so the expectation that interest rates will rise is seeing bond prices fall.
At Stockspot, we anticipated this risk and reduced the weighting in bonds across all of the portfolios in early February 2021.
How has the fall in bond prices impacted shares?
The fall in bond prices (and the subsequent rise in bond yields) has had different impacts on various sectors of the share market.
Some sectors like commodities have performed well since the price of raw material like copper and oil have been rising. An example is BHP, which is up 15% since January (at time of writing). Rising commodity prices have also bolstered the Australian dollar. Another sector that's performing well is financials, since rising interest rates increase profit margins for banks and insurers.
Conversely, technology companies have fallen since future growth rates are not as valuable in a world of higher inflation. In fact, market favourite Afterpay is down 30% over the last month (at time of writing).
Overall, the Australian share market is unchanged compared to where it started the year because of the counterbalancing impact of these different sectors. The Australian market (S&P/ASX 300) has a higher allocation to banks and resources, which tend to do well in a reflationary environment. This is different to the U.S. market which has more technology companies. 
It's difficult to predict which sectors will perform well at any given time, and that's why the Stockspot Portfolios are diversified across many different sectors. This allows for smoother returns when certain assets or sectors fluctuate in price.
Find out exactly what's inside your Stockspot Portfolio. 
Why isn't the price of gold rising?
When we recently reduced bonds in our portfolios we increased the allocation to emerging markets and gold. Gold is often a beneficiary of higher inflation expectations, but recently the price has been falling.
The reason for the fall in the gold price is related to concerns that interest rates will need to rise quickly to curb inflation. Future interest rate expectations (as measured by the bond curve) have been rising at a faster rate than inflation expectations (this is measured by the difference between bond rates and inflation protected bond rates). This means that real interest rate expectations (interest rates minus inflation) have been going up. Since gold doesn't pay dividends, this increases the opportunity cost and reduces the appeal of owning gold.
However, gold could do better than bonds if inflation expectations start to rise faster than bond yields (i.e. falling real interest rate expectations). This could happen if central banks signal that they plan to keep interest rates lower for longer and are prepared to accept higher inflation rates along the way. Both the RBA in Australia and the Federal Reserve in the U.S. have indicated they do not plan to increase interest rates until inflation is much higher and there is full employment.
Find out why you should diversify your portfolio with gold.
Do I need to make changes to my investment portfolio?
When markets fell in March 2020, we advised our clients to stay put, which is generally the ideal strategy irrespective of what's happening in markets over the short run.
The Stockspot portfolios have maintained positive returns over the last year due to being diversified across different asset classes and market sectors. Our portfolios have also outperformed 100% of similar diversified portfolios over five years due to having the right mix of assets and selection of low-cost funds. Share market falls of 5% to 10% are normal and you should expect at least one or two falls of this size every year.
If you're feeling nervous, it might help to stop checking prices daily. Over the long term, the market has still provided returns higher than leaving money in the bank, so sit tight and stay invested.