Online investment advice (robo-advice) is still relatively new. A common question we're often asked is 'how does Stockspot really work?'.
Here is our simple explanation with minimal jargon – if you have more questions, please let us know!

What actually is Stockspot and robo-advice?
Stockspot is an online investment adviser or robo-adviser. We use innovative technology to develop algorithms that automate many of the things a human adviser would do to manage your money.
We offer tailored investment advice to guide you in the right direction. It's fully online and you can say goodbye to endless paperwork.

Robo-advice? Are you a robot?
The robo-adviser term is a bit misleading, it suggests there are robots making the investment decisions. That couldn't be further from the truth. The reality is there are experienced, smart investment managers overseeing the portfolios.
The robo-advice term simply means we have built technology to automate many of the tasks a human financial adviser or fund manager would have done manually in the past.
A lot of those jobs, like understanding your risk capacity and rebalancing your portfolio, can now be done automatically using algorithms. It means we're able to reduce costs and human error.
So how do I start investing?
There are 3 basic steps to start investing with Stockspot.
Step 1: Visit our website and tell us a bit about yourself
Your financial goals. Are you saving for a house, or retirement, or just saving up?
How long you're planning to invest for (don't worry, you can change this later)
Your income minus regular expenses (i.e. how much you can save)
Any assets you own including cash in the bank minus financial commitments like credit card debt or personal loans
We use this information to work out if investing is a good strategy for you and what type of investment strategy you should consider.
Step 2 – Confirm your investment strategy
Stockspot's technology analyses your answers. If we believe investing is right for you, we recommend a strategy with the right mix of growth and defensive assets to match your personal situation and goals.
All of our investment strategies aim to give clients the best possibility of returns while eliminating unnecessary risk.
You complete the signup process by entering your details, completing the online ID check (which is required by law) and electronically signing your investment agreements.
Step 3 – Open your dedicated accounts and start investing.
When you invest with Stockspot, you get your own dedicated cash account and investment account that are both in your name. This is safer than investing in a fund that pools (ie mixes your money) with other people's and gives you more control over things like tax.
You confirm the opening of the accounts and make your first investment by making a deposit into the account.
Where can I see or track my investments?
You can track your portfolio, including all money in your cash account, investments and distributions, through your investment dashboard.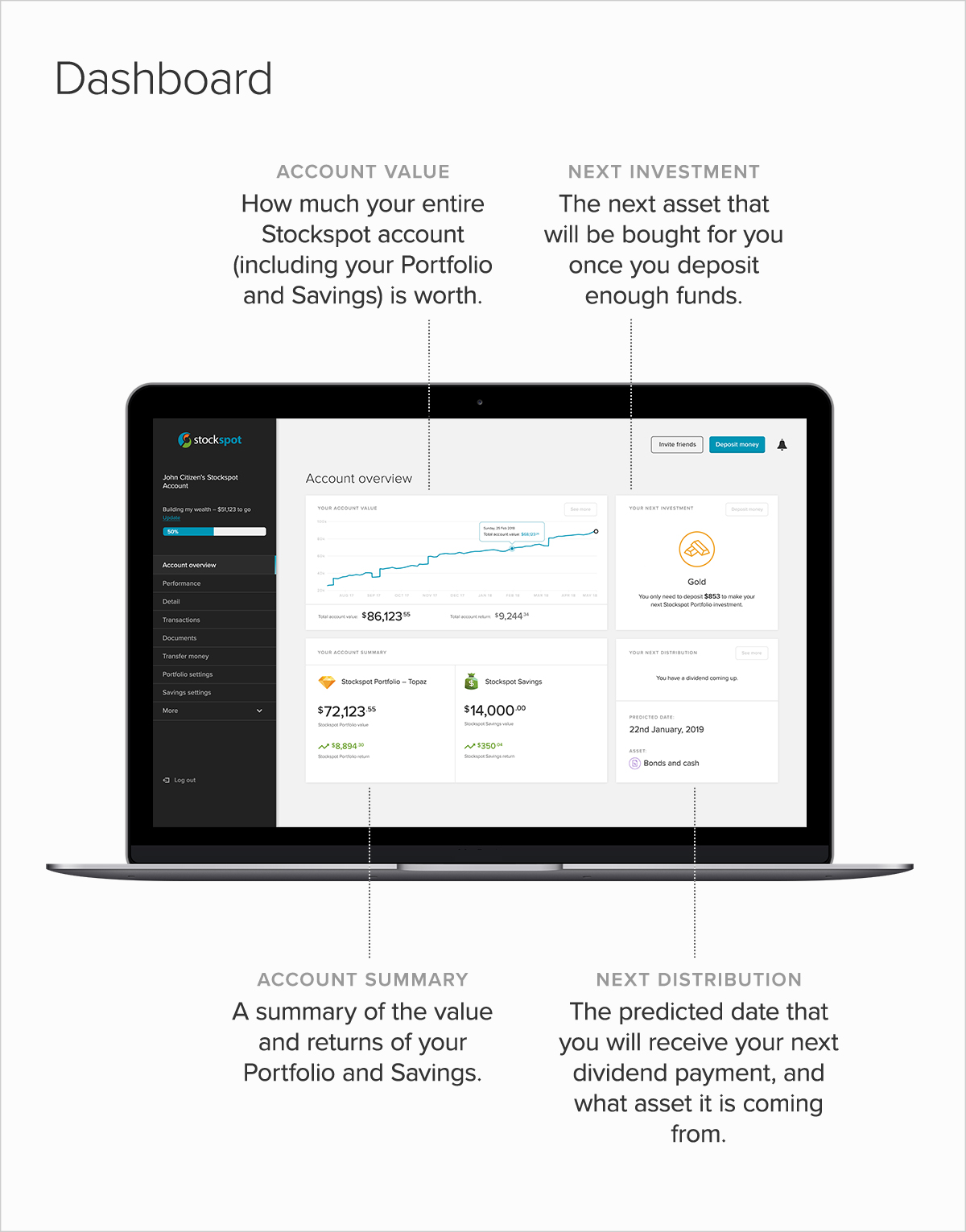 You'll also get notifications, tips and alerts from our digital assistant.
You can tell us about changes in your life via the dashboard, like if you're buying a car or planning to start a family. We review your investment strategy and make relevant changes to your portfolio if needed.
You can also view your Stockspot portfolio via our iOS and Android apps. They are a quick and easy way to view your portfolio without logging into the dashboard.

How do you manage my money?
We take care of investing your funds and managing your portfolio. You can have peace of mind that your investments are being looked after.
Our expert team constantly research the investment universe to ensure you have access to the best opportunity for returns while controlling for risk.
Clever algorithms – how do they work?
The algorithms automate many of the manual jobs required to manage your investments on a daily basis. These include re-balancing your portfolio to reduce risk and re-investing dividends.
We've spent a lot of time creating and perfecting the algorithms. We're developing machine learning to understand your investment style so our digital assistant can coach you to become an even better investor over time.
How do you choose what goes in the portfolios?
Our portfolios are designed to weather all different market conditions by combining different assets in the best possible combinations.
The investment choices are constantly reviewed to ensure you have access to the best possible return and diversification opportunities. We look for index funds or Exchange Traded Funds (ETFs) that we believe are the best available based on our strict criteria and research.
How are you different from other investment apps and robo-advisers?
Stockspot is different from other investment apps because we provide personal investment advice based on your financial situation to help steer you in the right direction. It means you don't take on too much (or too little) risk in your portfolio and can help you get a better outcome.
Our low fees are transparent and all inclusive. They cover all advice, account and transactional costs and we don't sting you with extras like brokerage, set-up fees or exit costs.
We don't pool or muddle your money with other investors. Each Stockspot client owns their portfolio individually – it's a safer way of investing and means you can get full tax benefits from your investments. It also gives you the ability to have more control over your choice of investment by adding investment themes.
What do you mean by transparent?
The finance industry makes investing sound very complex. We try to explain concepts in clear, simple language – without hiding behind financial jargon.
Being transparent means we don't charge layers of different fees or take commission payments from the funds we recommend. We only invest in what we believe will give you the best investment results.
You invest in ETFs. What are ETFs?
Instead of investing in one or two companies on the stock market, an ETF (Exchange Traded Fund) tracks the broader market or index like the top 200 Australian companies or the largest 100 companies in the world. You get exposure to lots of different markets and assets across the world, which gives you a well-balanced portfolio. You don't need to pick individual stocks which is risky, and you don't need to time the market.
We build our portfolios from ETFs comprised of underlying investments in over 1,400 shares and bonds from Australia and the rest of the world. We select ETFs that complement each other to help smooth out the short-term ups and down in the market and improve your return path.
We prefer ETFs over actively managed funds because they charge lower fees and have generally delivered better returns after fees. The less fees you pay, the more returns you keep!
Why don't you invest in individual stocks?
Picking individual stocks is hard because so many investment professionals are already doing it. Fifty years ago it was easier to make good returns by picking stocks but it's a lot more competitive now. These days individual stock prices react to new information very quickly and there are few opportunities to 'beat the market'. That doesn't mean share prices are always right, but it does mean that nobody knows for sure whether prices are too high or too low now.
When you buy ETFs like we do, you get access to market returns at a much lower cost.
Can I have more control over what I invest in?
With Stockspot Themes you can personalise your portfolio with things you care about. Interested in socially responsible shares or want more dividends in your portfolio? You can add them.
Stockspot themes gives you more control over your choice of investments but without the hassle of juggling them on your own.
Where can I find more information?
You can find more information by reading some of our other articles:
Let us do the hard work for you
Stockspot can take the hassle – and cost – out of managing your own diversified investment portfolio. We research the best local and global investment options and work out how much to allocate to different asset classes to build you your own personalised portfolio, based on your goals, your timeframe and appetite to take or avoid risk.
You can start with just $2,000. If you have $50,000 or more you can unlock our 'investment themes' to further personalise your portfolio. For investors with more than $200,000 we can help you transition your existing investments with a personalised implementation plan.
You can find out more about how we build and rebalance your portfolio using smart technology to take the hassle (and cost) out of managing your investments.
Related posts