ETF market highlights
ETF funds in Australia hit the $35 billion milestone, adding almost $10 billion in 2017.
Quarterly ETF growth was 12%, from $31.7 billion to $35.7 million at the end of December 2017. The additional $4 billion came from a combination of strong markets and consistent ETF inflows.
Many Asian share ETFs had an exceptional year, returning 25% to 38%.
Active asset allocation ETFs have fizzled due to poor performance from having a high allocation to cash in a year when markets rose strongly.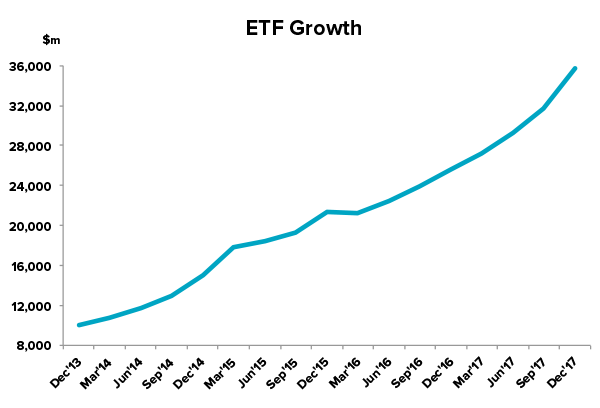 Source: ASX
Sector summary
Share markets rise
Most ETF sectors experienced positive asset growth in 2017 with commodity and currency ETFs the only exceptions.
Strong performances from the Australian and global share markets led to the fastest growth in those sectors, swelling 15-20% for the quarter. Fixed income ETFs also saw inflows despite a flat year of performance as more investors add fixed interest to their portfolios to improve diversification.
Sector
Total FUM
Sep 2017 ($M)
Total FUM
Dec 2017 ($M)
Quarterly change in FUM (%)
Global shares (broad market)
12,078
13,769
+14%
Australian shares (broad market)
8,368
9,742
+16%
Fixed Income & cash
3,804
4,090
+8%
Australian shares (strategies)
2,939
3,056
+4%
Australian shares (sectors)
1,791
2,083
+16%
Global shares (sectors)
1,313
1,563
+19%
Commodity
862
855
-1%
Currency
592
537
-9%
Total
31,747
35,694
+12%
Source: ASX
New Hybrids ETF (HBRD)
BetaShares launched the first listed managed fund that invests in ASX listed hybrids (HBRD). The fund is actively managed and aims to give investors diversified exposure to many hybrids (currently 37) and help reduce single-company risk.
Given the appetite for hybrids from mum and dad investors, this fund is likely to be popular as an alternative to buying individual hybrids. It charges 0.55% p.a. plus a performance fee of 15% if it beats its benchmark.
Mixed performance from active ETFs
There has been a wave of active ETF listings over the past 2 years since Magellan launched its Global Equities Fund (MGE) in 2015. The Magellan Global fund has performed roughly in line with its benchmark (MSCI World Net Total Return Index) since listing but benefited from growing brand awareness particularly in the advised space.
Other active ETFs have had less success in meeting their benchmarks. Some of the recently listed funds employing a market-timing (tactical) asset allocation approach have underperformed.
The AMP Capital Dynamic Markets Fund (DMKT) returned just 5.70% for the year and the Schroder Real Return Fund (GROW) added only 5.12%. The underperformance of these funds compared to a typical balanced or growth portfolio was due to a high (25-35%) allocation to cash.
The Stockspot portfolios which don't try and time the market and have a long-term strategic asset allocation approach returned 6.6% to 10.2% in 2017.
Get your personalised portfolio recommendation
Issuers
iShares and Vanguard both passed the $10 billion mark. iShares extended its lead thanks to the performance of its suite of global share ETFs. An institutional investment into iShares' ASX 200 ETF (IOZ) also brought in new funds.
BetaShares had success with some of its new listings including BetaShares Australian Sustainability Leads ETF (FAIR), but saw significant outflows from its Dividend Harvester Fund (HVST) which lost -9.3% during the year against the backdrop of the Australian share market which rose 12%. We've previously explained why we avoid this fund in the Stockspot portfolios.
VanEck Vectors has had another great quarter, with high inflows into its fixed income products (PLUS and FLOT), as well as its global ETF (QUAL) and Australian equal weight ETF (MVW).
The equal weight ETF has beaten the broad Australian market ETFs over the last 3 years. The funds 3 year performance (12.76%) more closely resembles the Vanguard MSCI Australian Small Companies Index ETF VSO (12.90%).
This is what we would expect since an equal weighting methodology introduces a tilt towards small companies because the stocks that have a lower market size have the same weight in the index as bigger businesses like Commonwealth Bank (CBA). For those wanting small share exposure, we offer the Vanguard fund (VSO) as a Stockspot portfolio theme for clients.
Issuer
Total FUM
Sep 2017 ($M)
Total FUM
Dec 2017 ($M)
Quarterly change in FUM
iShares
9,147
10,432
+14.0%
Vanguard
8,993
10,077
+12.1%
SPDR
5,232
5,692
+8.8%
BetaShares
4,183
4,474
+6.9%
VanEck Vectors
1,087
1,416
+30.3%
Magellan
1,038
1,189
+14.6%
ETF Securities
769
889
+15.7%
Russell
769
889
+15.7%
UBS
271
272
+0.3%
Platinum
71
195
+175.9%
Perth Mint
127
126
-0.7%
Others
207
285
+37.1%
Total
31,747
35,694
+12.4%
Source: ASX. Others include issuers with assets below $100 million.
Best and worst performers
Asian markets including China, Korea and Hong Kong had an outstanding year with returns of 25% to 35%. Asian technology companies including Tencent, Baidu and Samsung drove Asian markets higher despite political tensions in the region. We've seen the Asian shares ETF (IAA) and Chinese shares ETF (IZZ) becoming more popular with clients as Stockspot portfolio themes during 2017.
On the metals front, palladium shot up 35% due to tightening supply and strong demand from the automotive industry. The potential growth of electric cars has been cited as a possible risk for demand in the future. There is only $1 million invested in the palladium ETF so this is not too popular as an investment.
Most of the worst performing ETFs were 'inverse' performance funds which lost ground since markets rose strongly.
ASX code
ETF name
Total FUM
Dec 2017 ($M)
1-year total return
Positive performance
GGUS
BetaShares Geared US Equity Fund Currency Hedged (Hedge Fund)
14
+45%
UBP
UBS IQ MSCI Asia APEX 50 Ethical ETF
9
+38%
ETPMPD
ETFS Physical Palladium
1
+35%
IAA
iShares S&P Asia 50 ETF
386
+34%
IKO
iShares MSCI South Korea Capped Index ETF
41
+33%
Negative performance
BBUS
BetaShares US Equities Strong Bear Currency Hedged (Hedge Fund)
56
-37%
BBOZ
BetaShares Australian Strong Bear (Hedge Fund)
90
-20%
QAG
BetaShares Agriculture ETF-Currency Hedged (Synthetic)
2
-12%
HVST
BetaShares Australian Dividend Harvester Fund (Managed Fund)
273
-9%
BEAR
BetaShares Australian Equities Bear (Hedge Fund)
56
-8%
Source: ASX
Increases and decreases in assets
iShares' ASX 200 ETF (IOZ) received an institutional investment of $463 million to take the top spot for fund flows. The other major Australian and global share funds continued to be popular.
$74 million was pulled out of the BetaShares Dividend Harvester fund (HVST). Currency ETFs also lost assets along with the leveraged bear fund which shrank due to its -37% annual performance.
ETF name code
Total FUM Sep 17 ($M)
Total FUM Dec 17 ($M)
Quarterly change in FUM ($M)
Increases in FUM
iShares Core S&P/ASX 200 ETF (IOZ)
723
1,286
563
SPDR S&P/ASX 200 (STW)
3,300
3,587
287
Vanguard Australian Shares Index ETF (VAS)
2,430
2,661
232
iShares S&P 500 ETF (IVV)
2,310
2,504
195
Vanguard MSCI Index International Shares ETF (VGS)
682
832
150
Decreases in FUM
BetaShares Australian Dividend Harvester Fund (Managed Fund) (HVST)
346.7
272.7
-73.9
BetaShares U.S Dollar ETF (USD)
503.7
472.9
-30.9
BetaShares British Pound ETF (POU)
55.3
29.0
-26.3
UBS IQ Morningstar Australia Quality ETF (ETF)
27.2
10.7
-16.4
BetaShares US Equities Strong Bear Currency Hedged (Hedge Fund) (BBUS)
72.3
56.1
-16.2
Source: ASX
Stockspot ETFs
There are no changes to the ETFs in the Stockspot model portfolios as we believe they are still the most suitable in each category. It's worth noting that we haven't always chosen the ETF with the lowest fees because other factors can also be important.
Australian shares (VAS)
Our Australian share choice VAS has been outperforming it's closes rival STW since Stockspot launched 2014 because of its lower fees. Our preference remains VAS over STW in the portfolios.
Global shares (IOO)
Despite slightly higher costs, our global share ETF (IOO) has outperformed its closest comparable ETF (VGS) by 0.66% over the past year due to its large share bias. Our preference remains IOO over VGS in the portfolios.
Emerging market shares (IEM)
Despite slightly higher costs, our Emerging Markets ETF (IEM) outperformed its closest comparable ETF (VGE) by a whopping 4.84% in 2017. Our preference remains IEM over VGE in the portfolios.
Bonds (IAF)
Since 2014 many new fixed interest (bond) ETFs have become available including some corporate bond and floating rate products. We still prefer IAF given its large size, liquidity, relatively short effective duration (5 years) and the widely recognised index it follows. Corporate and floating rate bonds don't provide the same protection during a market downturn which is why we're continuing to recommend IAF which is predominantly fixed coupon government bonds. IAFs inverse relationship with interest rates provides the best diversification benefits when added to Australian shares.
Gold (GOLD)
We continue to like GOLD which is by far the largest gold ETF and is physically backed in a London vault.
Glossary
S&P/ASX200: An index of Australia's largest 200 companies by market capitalisation.
Bear hedge fund: A hedge fund designed to provide higher returns as the market falls, it may track the inverse of an index as an ETF.
Exchange trade fund (ETF): An open-ended investment fund that is traded on a stock-exchange. ETFs provide direct exposure to a wide range of investments in their asset class such as Australian shares, international shares, bonds or metals.
Broad market ETFs: Track the widest range of securities in the market that has been selected.
Sector ETFs: Track sectors within a market. (e.g. property, financials or resources)
Strategy ETFs: Only include some securities in the market. Securities are selected according to certain rule-based factors (e.g. dividend yield or research rating)
Exchange Traded Managed Fund (ETMF): These securities trade on the ASX like an ETF, but the funds are actively managed by the issuer instead of passively tracking a rules-based index.
Find out how Stockspot makes it easy to grow your wealth and invest in your future.