We've been busy improving the Stockspot dashboard and app over the last few months.
Here are the top 7 changes we're excited about based on recent feedback from our awesome clients. As well as a sneak preview of what else is coming soon. (PS: here's our handy guide to using the Stockspot dashboard if you need a refresher).
1. Transactions in one place and downloadable
It's now easier to view all of your investment transactions together with cash transactions in one place. You can also download your investment history into excel. This was a common request to help people who do their own tax.
2. Filter documents instantly
Ready to do your tax return? We've made tax time (a little bit) easier. Just go to the Documents section and select 'Tax'. Your Investor Statement and Tax Guide are there, ready to go.
And don't forget you can give your accountant the ability to view your portfolio and tax documents via 'Manage Access', so you don't need to email or post the documents to them every year.
How to invite your accountant to your Stockspot Dashboard
Log in to your dashboard
Select "More > Manage Access" from the menu on the left hand side
Enter your accountant's contact details and submit
Your accountant will receive a link to access your Stockspot portfolio through the professional portal.
Please note that accountant's access is limited. They can't make any change to your portfolio. And you will be able to terminate the access anytime in your dashboard.
3. Easily track your referral savings
We really appreciate the thousands of clients who tell their friends and family about the benefits of investing with Stockspot.
Did you know that for every friend who invests with us, we will waive the fees you pay on $5,000 of your portfolio for 12 months. And we'll do the same for your friends' portfolio for 12 months as well!
Now we've made it even easier for you to invite friends or family to invest with Stockspot straight from your dashboard. You can easily see your fee savings, as well as see the amount of your portfolio that is managed for free when you refer people. Simply click on the 'Invite' link in the left-hand menu.
Find out more about how you can invite your friends to invest better with Stockspot.
4. Give your portfolio a 'nickname'
You can now give your Stockspot account any name you like. A helpful one if you have more than one account, or if you have a specific goal – like buying a house, investing for a child, or retiring early! Simply click on the 'update' link under your name.
5. Stay up to date
We've also made it easier to keep up to date with news and insights from Stockspot, with access to the latest blog articles within your dashboard and app.
We share investing news, insights, reports and other interesting articles to help you on your investing journey.
6. View your Portfolio and Savings together in the App
You can now view your Portfolio, Savings and Total account value in the app. Don't forget to download the latest version of our app from the iOS App Store or Google Play Store.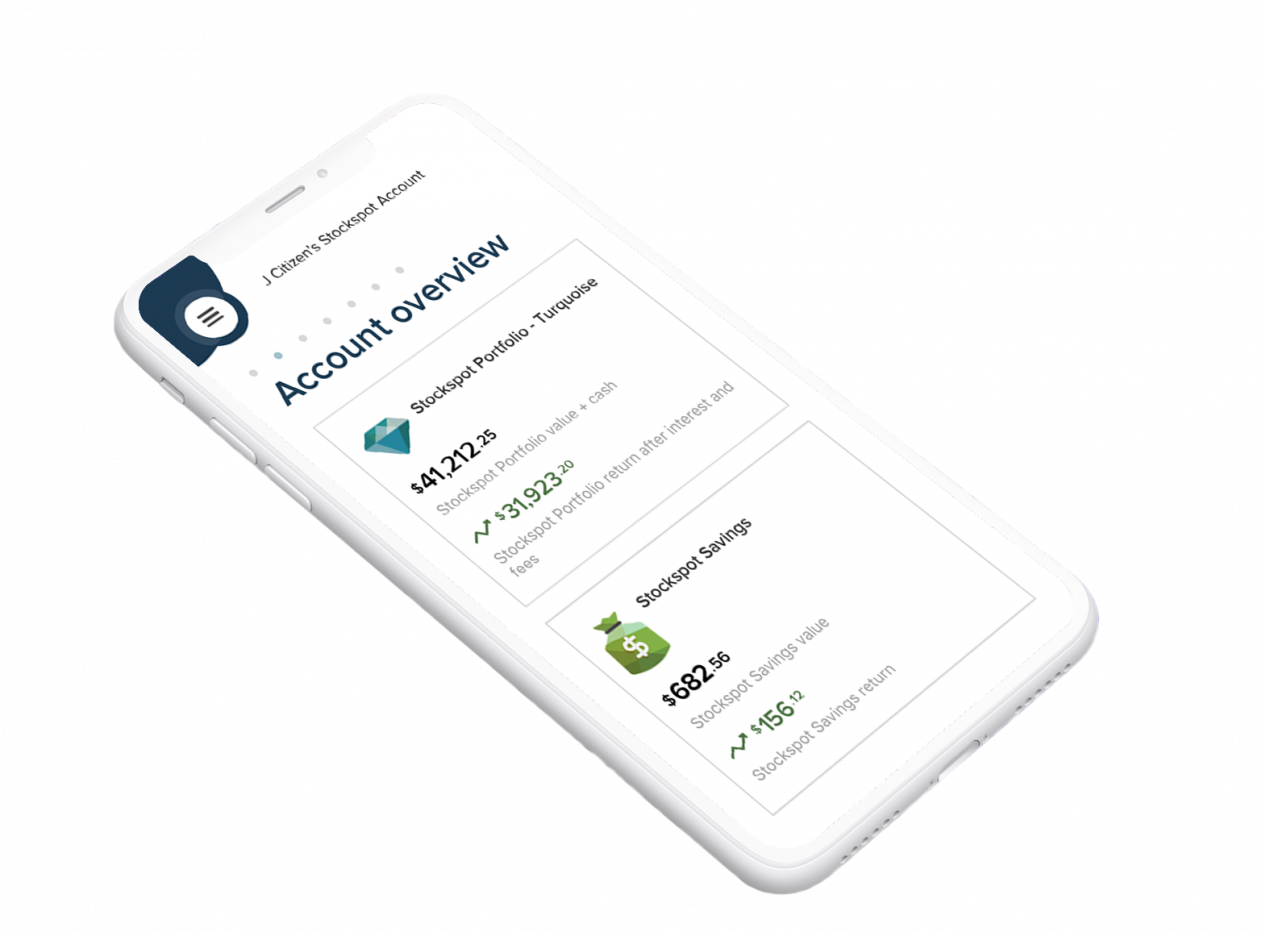 7. Get a better FAQ experience
Wondering how we reinvest dividends, how Stockspot Savings works or how you can invest for your children? We have made our FAQ page much easier to use.
Type in your question and see the answers instantly. Can't find what you are looking for? Have a chat with our Client Care & Advice team.
PLUS MORE COMING SOON!
We know many clients have more than one Stockspot account – often an individual account as well as one for their SMSF, a Trust or for a child (because kids invest for free with Stockspot).
Soon you'll be able to see all your linked accounts under a single login. This feature is currently in Beta so if you have more than one account and would like to get early access, please let us know by emailing enquiries@stockspot.com.au.
Check you're on track to reach your goal
We're working on a handy tool that will show you how to reach your goal even sooner.
We're in the process of testing different options for 2 Factor Authentication (2FA) to help make your account even more secure.
Even more new app features
Including more detailed performance reporting.
So stay tuned for even more coming soon….
PS. Think there's something more we could do to improve the Stockspot dashboard or app? Please let us know by emailing us at enquiries@stockspot.com.au.