It's 30 degrees outside, the siren calls of delicious gelato are getting louder, the beach is on everyone's mind in the Stockspot office, everyone's that is, except for one person…
Enter Alice. Awesome snowboarder, adventure sports obsessed, epic coder and our resident front-end developer (the person who make things look good). Her advice to anyone considering a career as a developer – be passionate and write excellent code. Sounds spot on to us!
Tell us a bit about yourself
Only a bit about myself?! Fine then… only a bit.
I grew up north of Auckland, New Zealand on the coast line where there was Fush and Chups in abundance before moving to Sydney back in 2011.
I have worked for large international creative digital agencies such as Imagination to small boutique creative development companies such as The Interaction Consortium. Outside of work I enjoy snowboarding, hiking and being in nature. I love adventure.
Why did you join Stockspot and what excites you most about it?
The opportunity to be part of a company providing a product that serves people and something that I believe in. I've also never worked for a startup before I find that pretty exciting in itself.
It's great being able to use the latest technology (such as ReactJS) and being able to pick and choose technology to best match what we're wanting to achieve and being able to have full autonomy over this. You basically get to own what you do and be able to put your stamp on something and be proud it. For me as a developer that is something I always strive for.
How did you get into working as a developer? What do you enjoy most about it?
You don't choose the life of a developer. The life of a developer chooses you. Believe it or not there is an element of creativeness when engineering something, as a developer I enjoy this part the most.
What advice would you give young women considering a career in coding and developing?
The same advice as to anyone! Write good code and be passionate about it. Wear rad t-shirts.
On a more serious note, women should not be discouraged from working in IT and becoming developers. Honestly if you are passionate about anything, it doesn't matter what your gender is – you will be able to achieve anything in relation to that passion.
My advice would be to stick with it, concentrate on writing good code and no matter how many times you try to get a foothold in the industry and they slam the door on you. Well, try harder. This goes for men and women!
We see you run off to drive to Perisher almost every Friday during the winter months – so how did you get into snowboarding? What do you like most about it?
Well I originally started off as a skier (hopefully that doesn't affect my street cred) since the age of 4. During my rebellious teenage years I fell into the darkside (snowboarding) and over the years it has become somewhat of an obsession (as some people would describe it).
I love it because I'm the best version of myself when in the mountains and I'm about to drop into the steep and deep. Eat, sleep, ride, repeat… awww yeah!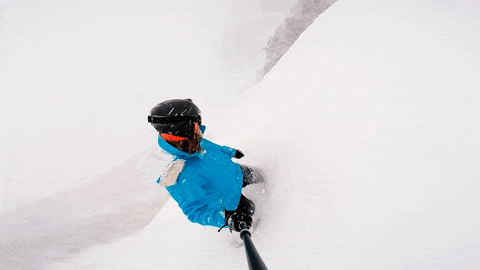 (That's Alice in action at the snow!)
What else do you do to relax?
Watch a lot of snowboarding movies, Netflix and chill …. wait… I don't relax. NEVER.
As a kiwi who's moved across the ditch, what is the thing you miss most about NZ?
Being able to buy chupa chups for 99c on a credit card at the local dairy and not getting charged extra or having a 'minimum spend'.. com'on Straya!!!
Holiday destinations – where would you like to go next?
Japow (that's snowboarder speak for Japan), Tahoe, British Columbia, Swiss Alps, French Alps…
Favourite emoji and why?

…. because when I act it out I look ridiculous.
Finally, who is your favourite robot and why?
That would be the 'alicebot' of course – cool name and made famous by ICQ and MSN Messenger.
Find out how Stockspot makes it easy to grow your wealth and invest in your future.