For the latest Fat Cat update – 2018 Fat Cat Survey Results
This year, our Fat Cat Funds Report looked at a record 4,102 funds to assess how they have performed after fees since 2012. By shining a light on the Fat Cat Funds our aim is cause some changes either by funds reducing their fees, by encouraging consumers to consider their options, or by Government intervening to improve education, awareness and transparency.
$45 billion still stuck in Fat Cat Funds
Our 2017 report found that $45 billion is currently managed by Fat Cat Funds and $600 million was paid in fees to these funds in the last 12 months.
To be classified as a Fat Cat Fund a super fund needs to perform worse than its category average over 1 year and 3 years and 5 years and by more than 10% over that period. We found that 217 Fat Cat Funds of 2015 are still Fat Cat Funds in 2017 and there are billions trapped in them today.
By far the big banks continue to control the most Fat Cat Funds. ANZ (including OnePath) took out the Gold award for the 4th year running with 218 Fat Cat Funds which together charged its customers $114 million in fees. It was followed by AMP with 87 funds and Commonwealth Bank with 47 funds.
Fat Cat Funds and your generation
On average, millennials could pay up to $311,733 in fees if their super is in a Fat Cat Fund. This is over a quarter of their potential super balance leaving them with $846,957 by retirement age. In contrast, millennials could have over $1,178,081 by retirement if they were in a low fee super fund.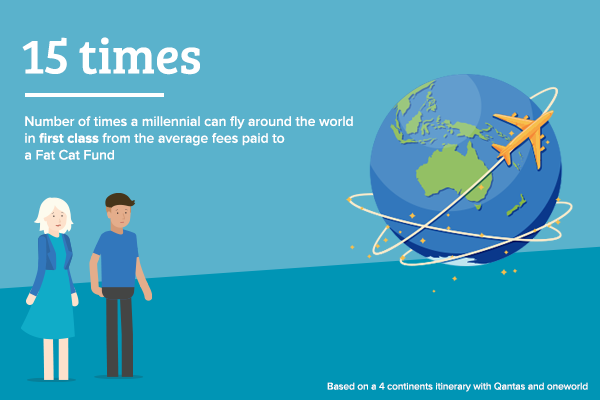 Generation X, people born between 1966 and 1980 could pay up to $108,623 in fees to their super provider.
Baby boomers with more conservative super investment strategies are generating returns of around 3 to 4% per year. Sadly in the past 5 years, Fat Cat Funds with a cautious investment strategy lost members 49% of returns due to fees.
Our efforts are making a difference
The good news is that naming and shaming the worst offenders is making a difference with the number of Fat Cat Funds beginning to fall. There has been a 18% decrease in the number of Fat Cat Funds from 638 in 2016 to 521 in 2017, with some Fat Cat Funds closing and others reducing their fees.
Total fees paid to Fat Cat Funds fell by $177 million to $600 million in 2017, with the average fee charged by Fat Cat Funds falling slightly to 1.99% from 2.04% last year.
We also saw NAB/MLC falling out of the top 5 in the Fat Cat Awards, with its number of Fat Cat Funds dropping from 32 in 2016 to 11 this year.
An important message
Your super is the single-most important savings tool you will have in your life-time and how much you pay for it matters. Every dollar you can save in super fees is an extra dollar you will have to spend in retirement.
In some parts of life, paying more gives you more. Investing doesn't work that way. Every dollar you pay comes directly out of your retirement lifestyle. The message is clear: the more you pay, the less you get.
Read the full report and see how your fund shapes up at www.stockspot.com.au/fatcat.
Find out how Stockspot makes it easy to grow your wealth and invest in your future.